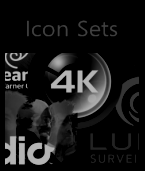 Are you creating a driver or control module for a specific product? Blackman Signature Designs can provide the custom graphics needed to make your project come to life. We can duplicate just about any product in high resolution vector format, then convert the master layered graphic for use with any home automation UI editor. We can create new pages from scratch or give you a virtual version of the product for a realistic experience.
Below is a perfect example. We were tasked with creating a virtual SpeakerCraft in-wall keypad that could be used with a control module to replicate the physical device as closely as possible. Some controls, such as a scroll wheel, were changed to simple up & down arrows. We added volume up & down buttons and used the volume knob as a toggle for the mute function when pressed. Our buttons can be arranged to any configuration because every graphic we provide is a free floating tranparent PNG. The SpeakerCraft UI can be modified for tablet, phone, handheld or proprietary touch panel resolutions.
| | |
| --- | --- |
| | Click on the thumbnail to view a large resolution composite of the master graphic. The original vector file is 2X larger than the HD example. We resized it down to 50% to decrease the load time. |
If you are interested in custom graphic design services, please call us direct at (708) 278-6635 to discuss the scope of your project and pricing. You can also email us direct at contact@blackmancustoms.com

Development concepts & current projects
Custom video game splash for

20th Anniversary PS4

00004/12300

Virtual Nvidia Shield remote

for RTI device driver

Colorized Aleera flat icon set

(615 icons)

Private Residence

Device Driver / UX

Software Licensing
Custom artwork for demo theater

grand opening gala

Roku 4 virtual remote for

upcoming 2-way device driver

Virtual remote for Google Nexus streamer (Android TV)

Boca Theater & Automation

Device Driver / UX

Device Driver / UX
11 retro (original logo) activity icons re-done for current products

Virtual Razer keyboard with

dynamic color changing options

Veolo 4K UHD streamer virtual

remote control

Private Residence

Custom Project

Device Driver / UX
All new AppleTV generation 4

virtual remote control

Outdoor zone / area select

icon collection

Single gang - vertically stacked

2 way virtual lighting switches

Multiple Platforms

Multiple Platforms

Multiple Platforms
Aleera scalable graphics/template for Apple Watch

Prima Cinema virtual

remote for IP control driver

Access control & fingerprint

manager UI (Ercole USA / Italy)

WatchOS App

Prima Cinema Driver

Custom User Interface
Virtual Honeywell Lyric thermostat for custom module

Virtual SpeakerCraft keypad

for Leviton / Bitwise module

Virtual RGB LED remotes

(multiple designs)

Honeywell Driver

SpeakerCraft Emulation

LED Control Module
Virtual lighting & wall plates

(one-off custom)

Virtual wall plate for Atlona driver

(one-off custom)

Cisco conferencing icon set

for commercial project

Luminex Virtual Lighting

Atlona Wall Plate

Cisco Conferencing Icons
3 button / all access menu icons

for whole house controller

Splash screen & custom controls

7 consoles - AirPlay - Chromecast

MPEG 4 to animated GIF

conversion with synced audio

Private Residence

Private Residence

Private Residence
Residential, Commercial & Marine Floor Plan Conversion
One of the most personal things you can do for a client when it comes to whole house control is handing them a touch panel with a floor plan of their own home right on the main page for zone selection. BSD can convert any single or multi-level blueprints into an interactive way to not only select zones, but they also serve as a way to quickly assess which zones are active and which are not.
An active zone can be "lit up" by using two way feedback from the matrix switcher to alert the end user that the room is currently in use. The active zone feedback is useful for party modes or verification of each zone turning off e.g. all off / good night mode.
The sample residential floor plan below is interactive (PC / computer only). Simply mouse over a zone to view the active state.

Here is an example of a commercial floor plan that can be used to lay out the actual locations for TVs, audio zones, lighting, thermostats, cameras, shades and more.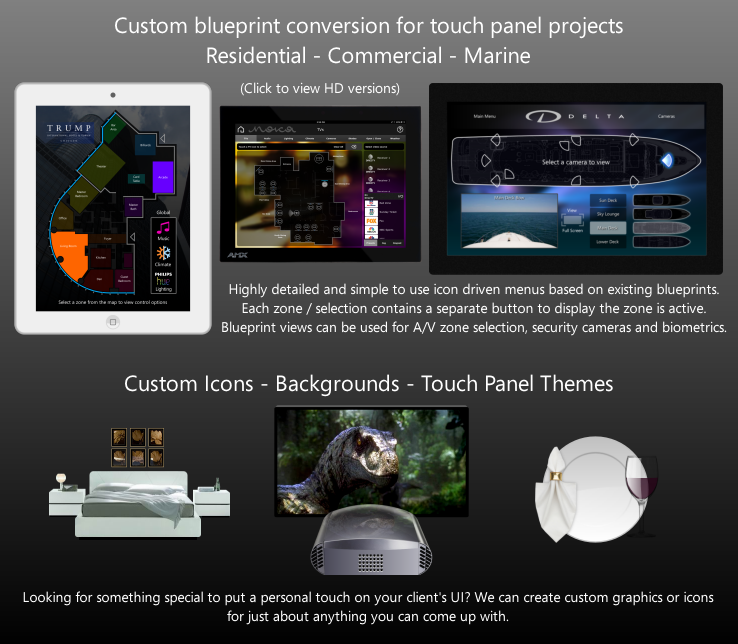 BSD is the sole provider of GUI design and custom touch panel graphics for Ercole Italy and Ercole USA, which is a security / biometric integration firm specializing in large residential projects, some over sixty thousand square feet in size. Our company is currently involved in several custom projects, some of which have been featured in home theater publications and TV shows such as VH1's Insane Celebrity Real Estate, MTV's Cribs, and History HD's Modern Marvels: Keep Out.
Other custom graphic projects involve manufacturers such as RTI, a universal remote control and touch panel manufacturer. In a joint project with GuiFX, Blackman Signature Designs created the Curacao default graphics library which is included with their T2-C, T3, T3-V and T4 handhelds along with their RK3 and K4 in-wall units.